Fengqi Asia x Joyent 5th Anniversary: SmartOS Double Rewards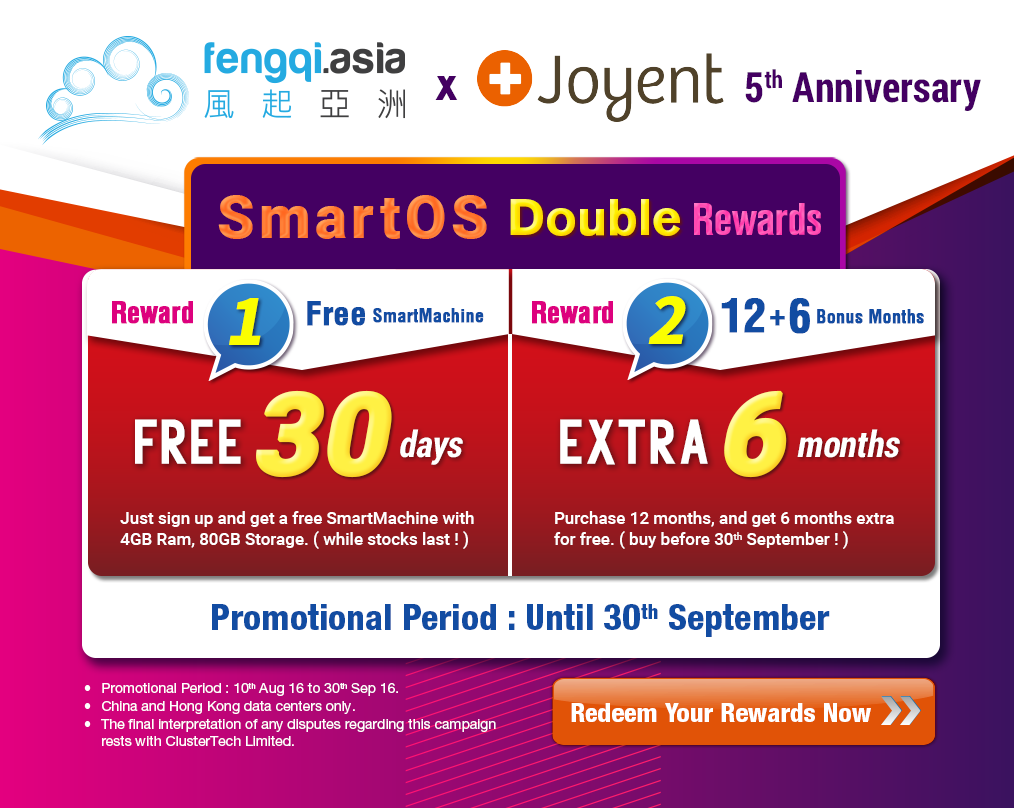 For a limited time, save big on SmartOS…
As Joyent's strategic partner in Greater China, Fengqi Asia has been operating SmartOS for more than five years. In celebration, Fengqi Asia has prepared the following rewards for you:
1 x SmartMachine FREE for 30 days
6 x Months EXTRA at no cost when you purchase 12 months
Why Fengqi Asia?
Joyent's Sole Partner in Greater China
In partnership with Joyent, Fengqi has been providing public cloud services and support to thousands of gaming, e-commerce, media, social network and mobile service providers in the region. Fengqi is also trusted by the Hong Kong Government, and meets all safety and technical requirements.
The China Factor
Fengqi Asia has extensive POPs covering the greater China region. International connections offer the lowest latency, and data centers in Beijing are armed with Multi-BGP lines to the five major telcos including China Unicom, China Telecom, and China Mobile.
24 x 7 Local Support
We have offices at a number of major cities in China, with 24×7 onsite support available. You can rely on Fengqi Asia's professional team to get your applications up and running on SmartOS in no time.